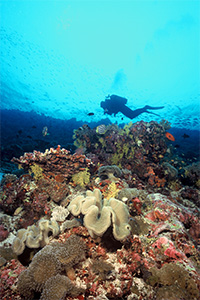 Ocean Conservation
The Coral Reef Alliance
The Coral Reef Alliance (CORAL) is a nonprofit organization dedicated to keeping coral reefs alive. Donations help support the creation of coral parks – places where reefs are protected for future generations. 1-888-CORAL-REEF (267-2573).

The Ocean Conservancy
The Ocean Conservancy is the nation's oldest and largest organization dedicated solely to protecting ocean environments.
REEF
Information on ocean conservation.
Scuba Magazines
Dive Training Magazine
A well respected industry magazine dedicated to divers and their instructors.
Wreck Diving Magazine
A quality informative magazine focused on wreck diving.
Scuba News
Dive News Wire
News in the dive industry.
Scuba Organizations
Divers Alert Network
Divers Alert Network (DAN) – information on diving safety and medicine
PADI – Professional Association of Diving Instructors
PADI exists to develop programs that encourage and fulfill the public interest in recreational scuba and snorkel diving worldwide.
Underwater Archaeology
INA – Institute of Nautical Archaeology
INA programs and news.
Wreck Diving
North Carolina Wreck Diving
Focused on North Carolina wreck diving.
Great Lakes Shipwrecks
Information on shipwrecks in the Great Lakes.
Scuba Resources
Fish Index – FINS (Fish Information Service)
Great resource for identifying fish by name and by picture.
diveindex.com
Index of scuba diving related links.
ScubaBoard
Forums, articles, photo gallery, directories and classifieds for scuba divers.
Travel Resources
TSA Official Website
Official TSA website to assist air travelers with latest news on what you can or cannot bring on the flight.
U.S. Travel Advisory
U.S. State Department travel advisory warnings.
Weather
The Weather Channel's information.
Weather Reporting Site
Another weather reporting site.
x-rates.com
Updated exchange rates for currencies plus currency calculator.
Mapquest Site – World
Mapquest site for world maps.
Local Phrases Site
Learn some local phrases before you visit that country.
Scuba Products
Diversitea – Herbal Tea for Divers
Unique herbal tea blends developed especially for divers.
Scuba Clubs
The Dallas Underwater Photographic Society (DUPS)
A not-for-profit organization promoting underwater photography and underwater videography.
FINZ Dallas Dive Group
Scuba Diving group meets monthly in Addison, Texas.
Scubadillo Dive Club
The 'Dillos meet the first Thursday of every month in Dallas, Texas.
The Diving Rebels
Based in Arlington, Texas, The Diving Rebels meet the first Wednesday of every month.
Black Coral Divers
The Black Coral Divers promote and encourage scuba diving in the African American community and DFW area at large.
Singledivers.com
This group organizes dive trips and events for single divers and divers whose partners are non-divers.
Chum Club
CHUM Club, City of Houston Underwater Mariners.
Texas Dive Resources
Scuba Ranch
Scuba park located in Terrell, Texas.
Athens Scuba Park
Scuba Park located in Athens, Texas.
Live-aboards
Solmar V
Great live-aboard featuring big animal diving.
Photo Resources
DivePhotoGuide.com
Good info on dive operators and contests.
Wetpixel.com
Good info on underwater digital photography and video.