Enchanted Sea Images was founded by David Prichard and Lily Mak, a husband and wife team of dive professionals, who share their passion for diving. The company provides quality specialized underwater images, products and services to companies, the scuba diving community and water enthusiasts. The founders are dedicated to promoting the sport of scuba diving with an emphasis on diver safety and conservation of our oceans.
David and Lily are active on the speaker circuit and enjoy sharing their knowledge and experience with groups and dive clubs on a broad range of topics including Underwater Photography, Underwater Video, Wreck Diving, Underwater Archeology, and Scuba Equipment. David and Lily are photojournalists and have been Contributing Editors to a number of international magazines and media outlets, including Wreck Diving Magazine, Dive Training, Dive Center Business, Skin Diving, and Northwest Diver.
David Prichard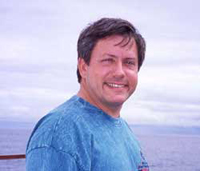 David Prichard loves traveling the world and recording his underwater adventures with video and photography. Utilizing his journalism background in both the newspaper and international magazine industry, David has been able to document his undersea explorations in articles and magazines as well as a number of scuba-related newsletters. In addition to recreational diving, David enjoys the excitement of discovering the secrets of shipwrecks as a certified underwater archaeology diver with the Southwest Underwater Archaeology Society. He can be found exploring caves (NSS-CDS) or occasionally working as a liveaboard boat Divemaster. David is a PADI IDC Staff Instructor, teaching beginners to Assistant Instructors and certifies over a dozen specialty courses including Underwater Photographer and Underwater Videographer.
Lily Mak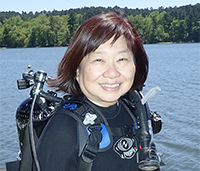 Lily Mak is a published underwater photographer and has been photographing the underwater environment for over fifteen years. Lily strives to capture impressions of the richness, beauty, and diversity of life in the oceans in her underwater images. Her goal is to increase awareness and sustainability of our natural underwater heritage. Lily's images are a collection of her work from seas and oceans around the world. Her images have appeared in both national and international publications including Dive Training Magazine, Wreck Diving Magazine, Sports Diver, Skin Diver Magazine, and Boat International Magazine as well as corporate brochures, ads, and regional publications. Lily's work has been on display at the Dallas Aquarium at Fair Park in Dallas, Texas and in corporate office parks. One of Lily's images, a blue ring octopus, was featured in the Coral Reef Alliance calendar. Lily holds Bachelor's degrees in Physics and Engineering as well as an M.B.A. Lily currently resides in Dallas, Texas and is a certified cave diver and PADI Assistant Instructor.
Click here for David and Lily's published articles and tips.